Ne ide. Mora < 16

Post must be at least 20 characters
A tako. Jel ti to pripremas dernek pa biras izvodjace koji znaju materiju?
Ne vidi ti se bas dobro ovaj watermark, trebao si ga u gornji desni ugao prebaciti.
čudo da me nisi odah popljuvao nego kunstruktivni komentar




Zasto je cudo, i kad' sam ja to tebe popljuvao ?
Od mene, a i od par ostalih forumasa si dobio rijeci hvale, tako da nemam pojma o cemu pricas.
ajd recimo da hvalite hahaha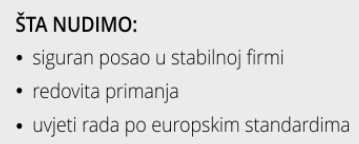 Da li je moguće da i u današnje doba neke firme se ponose da su redovne plate? Firma je iz Zagreba a matica u Njemačkoj. Ove tri tačke nikako ne idu jedna uz drugu. Siguran posao? Šta ima negdje gdje se nudi i nesiguran posao?