Slučajno mi pade na pamet da bi ubacivanjem simbola u titl koji se prikazuje na guglu sigurno se povećao CTR. Kako bi to izgledalo, primjer

simbol reketa

nađen na ovom sajtu http://www.fileformat.info/info/unicode/char/search.htm?q=ball&preview=entity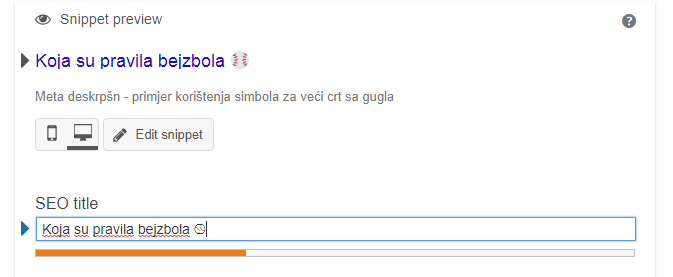 Pretpostavljam da ovakvi titlovi imaju veći CTR. Pošto rijetko koja ideja dođe na pamet da nije došla i drugima rekoh ajd ja malo da proguglam o tome da vidim da li će gugl uopšte htjeti prikazati simbole u rezultatima pretrage

ovdje kažu 2015te da gugl prestaje prikazivat simbole u srč rezultatima

ovdje daju upustva kako povećati CTR, naravno da mi nije prvom palo na pamet. još su dali neke odlične primjere



vijest iz maja ukratko kažu da su webmajstori počeli koristit ovo da povećaju ctr i da gugl ignoriše simbole
neko je pitao džon milera
Is it OK to use symbols like this ⇒ in the meta title or meta description?
ovaj kaže
Sure, but often we just ignore & drop them.
neko u komentarima kaže:
that icon is rendered by the browser and not Google. I think it's pretty obvious John insinuated that the characters are ignored when it comes to determining ranking factors, not when it comes to displaying the search result.
dalje u komentarima stoji
I've seen them drop and carry them seemingly arbitrarily. It has something to do with the query but it's really difficult to test how the symbol's relevance is programmatically determined.

Well he did say "often". They work on a few pages of mine, but they're best as separators in meta-descriptions (2-3 max).
vijest iz februara 2017

sa par primjera




Da li još uvijek radi? ja sam malo guglo da vidim ima li ih đe

pošto su ovo baš usko povezani sajtovi sa tim simbolima možda ih zato gugl prikazuje
probao sam da upišem samo simbol u guglu da vidim izbajuje li koji titl, probah sa snješkom

i ima, ajd da prbam ovaj keyword iz naslova cijeli da vidim oće li prikazat snješka opet

na drugom mjestu je isti rezultat ovog puta bez snješka
našao sam uz pomoć pretrage allintitle dosta titlova koji imaju simbole ali se nigdje ne prikazuju u titlu sem ako se napravi pretraga sa zadatim simbolom npr

zanimljivo da se u url vidi šoljica, ja ipak ne bi u url ubacivao simbole
evo ođe se vidi u meta deskripšn simboli, mada izgledaju pojadno ni tu ih ne bih koristio, kad ne može u titlu onda niš. okasnih
eto tako, vazda sam korak iza. potroših vremena na strašno bitnu temu





a vrijeme je